PW the cling masterbatch market leader
Since the 90's, Polytechs is the unique producer of PW range, the worldwide cling masterbatch reference. For over 30 years, Polytechs has produced these specialty grades, including the famous PW 60, with the highest possible quality & consistency.
Recognized by industry peers & end-market users for its performances / end-effects, PW is the choice of high quality & performances, whatever your market is Silage Stretch film, Pallet Stretch Film, Food Stretch Film…
PW cling masterbatch range is based on Polyisobutylen technology and is designed to produce stretch films from LLDPE, LDPE or other polyolefins for the applications of palletwrap, silagewrap and foodwrap. It can be used in both blown and cast film processes with mono & multi layers structures. It delivers cling strengths such as Peel cling Strength, Lap cling Strength or Retack ability.
Thanks to its website, Polytechs, The recognized French Compounder, offers to its markets, customers and future contacts the opportunity to learn more and in detail about PW actions and possibilities. Welcome to our PW website, a world of cling effects!
How does it work ?
PW cling masterbatch grades, via their Polyisobutylen technology, delivers different effects, each related to specific requirements coming from the end markets. Each reference has a unique array of effects, allowing the industrials to adapt it to their own requirements: combination of short/long term migration of cling effect, high Peel strength, High retack ability …
Discover all of the mechanism and properties of the worldwide market leader for cling masterbatch.
A broad range of market applications
PW cling masterbatch is dedicated to many applications related to polyolefin stretch films, like silage stretch films, and other polymer films, with support of Polytechs team to integrate it properly.
The use of PW cling masterbatch inside high-quality stretch films is an essential component as it brings clingability to the film structure. Depending on the market that is targeted, Film producers shall rely on specific cling effects from Polyisobutylen technology, for instance, Combination of High Peel cling Strength and High Lap cling Strength for high-quality bale silage.
For pallet stretch films, Polymer film producers seek for a bonding agent like PW cling masterbatch to be added to stretch film to increase the stickiness quality of the film. This is a key target requirement to allow the layers of stretch film applied to bond to the previous layers effectively creating a single wall of stretch film. For Food stretch films, PW cling masterbatch is used in vast range of applications comprising packaging, labeling and lamination. Many other applications are still to be developed, such as use of PW cling masterbatch in recycling or anticorrosive films.
30 years of experience in stretch films
PW is a cling masterbatch for polyolefin stretch films that has several effects and side benefits. It is designed to produce stretch film based on LLDPE, LDPE or other polyolefin, targeting the applications of pallet wrap, silage wrap and food wrap films. It can be used in blown or cast film processes and is working with monolayer and multilayer films structures. PW is supplied as dried and non-sticky pellets and is food contact compliant.
For over 30 years, Polytechs has fine-tuned its process and recipes to ensure delivering the best possible offer in term of cling masterbatch, based in Polyisobutylen technology. Today, 3 grades are proposed to the market, PW 60, PW 70, PW S, covering the main market needs sought by the industrials.  One of the biggest value of PW come from its high quality consistency, world widely renowned by industrial peers. Beyond the offer, Polytechs dedicated time in supporting its customers, easing the integration of PW inside the film recipe and processing mode. Its teams investigated a lot on parameters & effects influencing migration, quality and performances.
Since the 90s, Polytechs has been able to demonstrate the gains of using PW cling masterbatch, from a pure performance stand-point, and in the end from cost/performance balance stand point as well, adapting each of its recommendation to the customer needs.

The worldwide reference and the market leader of cling masterbatch.
Balanced peel & lap properties, and good retack & noise level.
Reinforced 02 permeability resistance and improved puncture resitance.

Unique reference on the market (70% PIB).
Strong lap properties, down to 20% less in dosage instead PW60.
Fast tack and cling effects, very sensitive storage temperature.

Peel & noise booster, new and unique reference on the market.
Strong peel cling properties, 2.5 times higher than liquid PIB.
Stronger retack ability and noise level, up to 10 times than liquid PIB.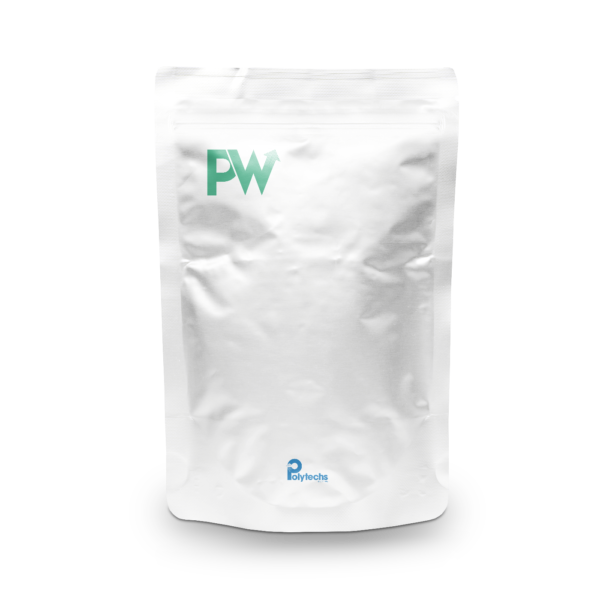 Try all the benefits of PW with a sample, fill in this short questionnaire and receive it !